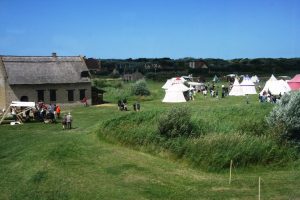 About us
Passionate about medieval history and reconstruction for many years, we decided at the end of 2010 to set up a medieval company which allows us not only to share our passion but also to experiment with period techniques in the most historical conditions possible.
Our goal
Our goal is to promote, in Belgium and abroad, the thought and the way of life of the different periods of the history of Western Europe, mainly of the Middle Ages. This is done by organizing or participating in events such as historical reenactments or didactic animations for example.
Our coat of arms
D'azur à la bordure de gueule , une épée et un moule à bastons d'or passés en sautoir.