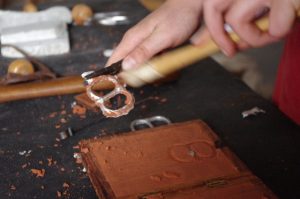 In the Middle Ages, pewter and lead were used for the manufacture of a multitude of everyday or decorative objects of everyday life. Thus we find alloys of tin and lead in the form of buckles, decorative rivets, buttons, religious or secular signs, kitchen objects and decorative objects.
As for lead, it was used alone for the creation of merals (kinds of tokens or current tickets) or lead mines used to write on parchment or paper.
All these objects were cast in molds made according to the method in specific materials such as soapstone, metal, Delft sand, cuttlebone or even slate.
Some pictures